Hello all!
Wow I can not believe it's already been 5 weeks since I started the summer contest for a free engagement session! It went by so fast!
I had a lot of people enter into the contest, and although I wish I could pick you all, I can only pick one.
The winner of my summer contest is....
JESSIE VICKERS!!!
Here is the sweet story she sent me on their engagement story, along with a few photos from her proposal :)
"My name is Jessie Vickers and I got engaged to my high school sweet heart, Jeremy Krakosky on May 10, 2016.
Jeremy and I met through mutual friends in high school. I was a junior at Waxahachie High and he was a senior at Red Oak (high school rivalry!). He was planning on attending Texas Tech and I had another year of high school-so I was convinced it wasn't going to work out. I denied him 3 times! Finally, I decided to give him a chance and I am SO glad I did! A year later, I joined him at Tech and we have made our best memories here in Lubbock.
I skipped a year of college thanks to dual credit, so we both graduated this past May. Right before I graduated, Jeremy took me around campus to take senior pictures and reminisce our beautiful campus. Throughout college, Jeremy worked for the school newspaper, The Daily Toreador, and worked closely with the football team. He informed me a co-worker left the stadium open for senior pictures. We got to tour the stadium, just the two of us, and take pictures. On the 50 yard line, he proposed. BEST MOMENT OF MY LIFE! So many happy tears. After the engagement, he had gotten our friends all together and planned an engagement party.
I am currently attending graduate school at TTUHSC to become a speech-language pathologist and he is training to become a manager of Sherwin Williams. Because I am attending school and he isn't quite sure what store he will be managing, we don't have a date planned yet. But I can't wait to see what God has in store for us and our marriage. We hope you will consider us for your engagement session! We know Sydney and Garrett Nichols and their pictures were gorgeous, fabulous work! "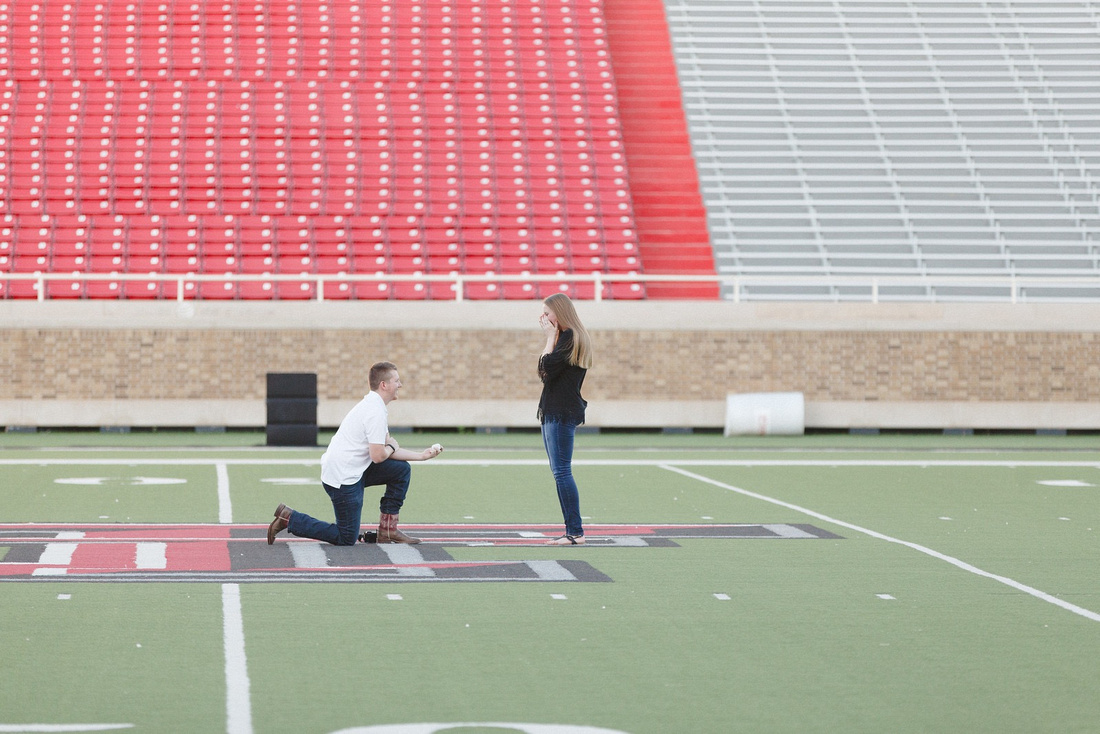 Aren't they so cute! I'm so excited to take there photos, and it def. doesn't hurt that they are fellow Red Raiders! :)
WRECK EM!